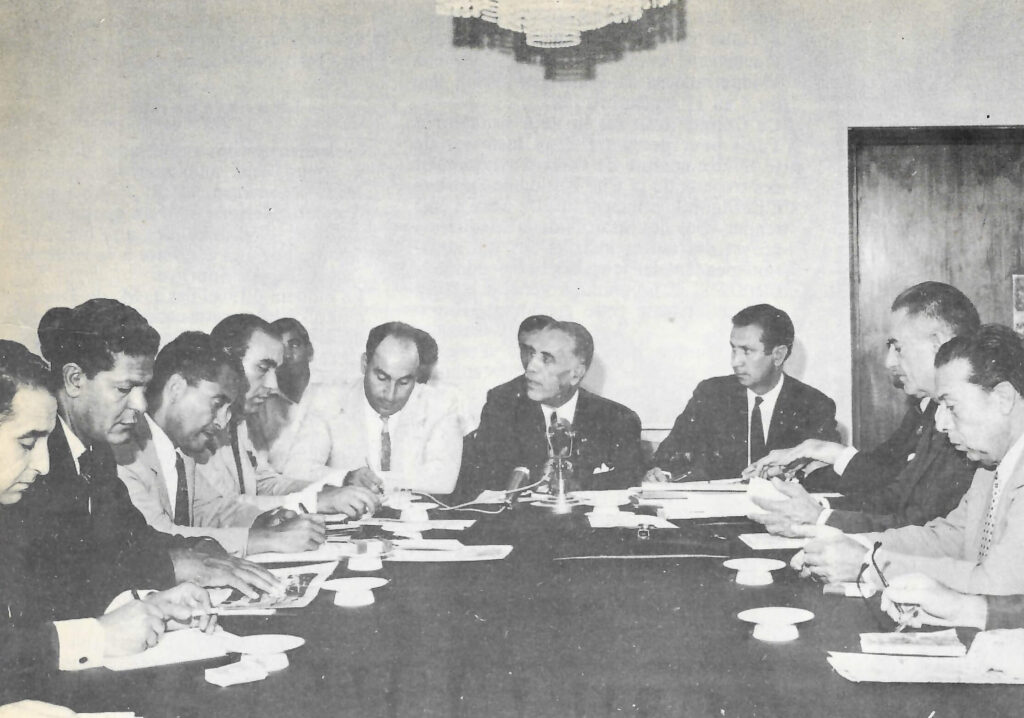 The countdown for the formation of the International Committee of the Mediterranean Games began in 1959 in Beirut during the 3rd edition of the Mediterranean Games.
The Chairman of the Organizing Committee and President of the Lebanese National Olympic Committee, Gabriel Gemayel, proposed the creation of a permanent Committee that would ensure the sustainability of the Games.
The ICMG was officially created on June 16, 1961 in Athens, in the premices of Athens Tennis Club. The meeting of the Executive Committee was held under the chairmanship of Gabriel Gemayel and in the presence of Juan Antonio Samaranch (Vice-President), Ioannis Ketseas (Secretary General), Giulio Onesti, Mohammed Benzelloun, Ahmed D. Touny. During the meeting, Gemayel presented the statute of the ICMG, which was based on the International Olympic Committee statute.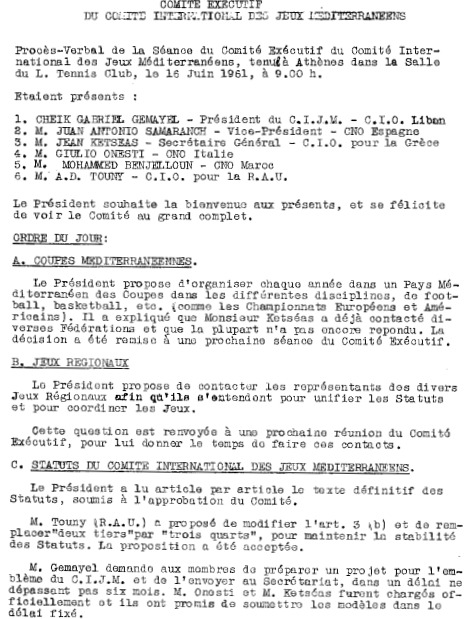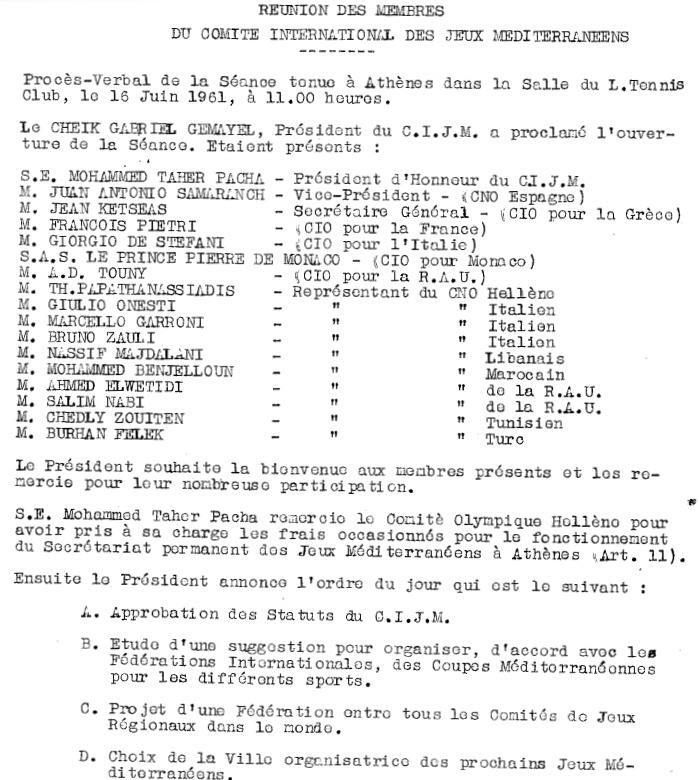 This was followed by the founding meeting of all members of the National Olympic Committees who participated in the Mediterranean Games. Except President Gabriel Gemayel, they were also present, Mohammed Taher Pasha (Honorary President of the ICMG), Juan Antonio Samaranch (Vice-President), Ioannis Ketseas (Secretary General), François Pietri (IOC member – France), Giordio de Stefani (IOC member – Italy), Prince Pierre of Monaco (IOC member – Monaco), Ahmed D. Touny (IOC member – Republic Arab United), Theodosios Papathanasiadis (Greece), Giulio Onesti (Italy), Marcello Garroni (Italy), Bruno Zauli (Italy), Nassif Majdalani (Lebanon), Mohammed Benzelloun (Morocco), Ahmed Elwetidi (United Arab Republic), Salim Nabi (United Arab Republic), Chedly Zouiten (Tunisia), Burhan Felek (Turkey).
The ICMG statute was approved during the meeting and was also accepted, the proposal of the Hellenic Olympic Committee to place the headquarters of the ICMG on a permanent basis in Athens.
The first Chairman of the Committee was Gabriel Gemayel, followed by Mohamed Mzali 1979-1987 (Tunisia), Claude Collard 1987-2003 (France) and from 2003 onwards, Amar ADDADI (Algeria).
Concerning the Secretary General, Ioannis Ketseas was succeded by Epaminondas Petralias, Nikos Filaretos, Minos Kyriakou, Isidoros Kouvelos and Iakovos Filippoussis, who are all Greeks.